I spent the better part of yesterday afternoon/evening reorganising my ribbon and embroidery floss collection. Yes, my life is riveting LOL. But I am very happy with the result.
CLICK ON IMAGES FOR LARGER VIEW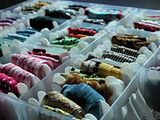 I went to
Spotlight
yesterday and cleared thier stock of embroidery floss spools, and bought two cases. I have only used one so far, but I have to have room to grow LOL.
A lot of you scrappers and crafters out there are probably already using this system to store your ribbon and embroidery floss - So OK I am a bit slow! But I can't believe how beautiful it looks. And thanks
Vikki
, for letting me C.A.S.E. your idea :x