Not really much to report tonight, except that it is great to be back at Tuesday Club! For those that are not familiar, we meet at the Stirlling Street Arts Centre in Bunbury every Tuesaday in the school term. There are classes for everything from teddy bear making to mosiacs to (yep you guessed it! lol) scrapbooking. The kids go to the creche, and we mums get to play for three whole hours every week. It is fab.
Today I actually managed to complete a LO from start to finish. How exciting! Only I am unable to share, as it is for Jenny at
RJR
. I will just have to wait until they get put up on her
blog
.
So Let's see I can can find a pic worth sharing . . . back in a sec . . . . .
Here's a NO MORE PHOTOS MUM shot of Henry I took the other day. Just love the look on his face. I was trying to get a good shot to take to Kindy the next day (pert of their book list). I had both kids stuffing around and failing light . . . you know how it goes.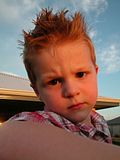 CLICK ON IMAGE FOR LARGER VIEW
And here is the one we went with - apologiies for the blown out nature, but I think it is pretty cute none the less.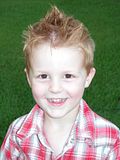 CLICK ON IMAGE FOR LARGER VIEW



And, as my Grandma used to say, "there is no show without punch". So, not to be outdone here is one of Grace mucky post-dinner-pre-bath face LOL.







CLICK ON IMAGE FOR LARGER VIEW
That's all for now. I have found a couple of incredibly cute photos in the archives, so I think I might post a "This time last year" pic in my next post. CU Soon