I have completed my first
NON
DT or class project in ages and it felt great! This is a LO for the
March Sketch Challenge
on the
SM forum
.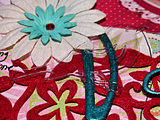 CLICK ON THUMBNAILS FOR FULL IMAGE VIEW
The colour combo is a little unusual (especially for someone that always "plays it safe") but this was a lot of fun. Basically I was dying to use the felt FTI trim and this is what resulted. I am hoping I pulled it off. At any rate the fun is in the trying!
FYI: I have just discovered that Dimensional Magic is a perfect adhesive for ghosties. I used it on the little birdie and you can't see it at all!
I have another
FOUR
projects I need to get on with. Three for classes and one for fun. So I had better stop chatting and get out of here!