Yes after three excruciatingly long weeks, I have my camera back! And the best news of all is that we only had to pay for the postage. What a relief. So how did I choose to celebrate the return of my precious angel? Why I took a photo of the kids . . . while still in Camera House!LOL! So here it is in it's unedited state (blown out flash and all). And you know what? I don't care, I'm just so happy to have it back.
And the next thing I photographed? Scrapping projects! I'm so predictable.lol. So I can share a sneak peak of the christmas projects I have now completed for Jenny at
Really Just Ribbons
.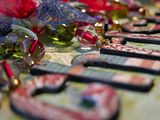 Click on Image for larger View
Peaked your interest? Check back on Jenny's RJR Blog for mine and the other very talented DT Members Christmas Projects.

In other scrapping news, I have two school holiday kids class prototypes to do for 2 Devils, as well as two OTP projects and a LO waiting in the wings for "grown ups" classes too. I seriously can't wait to get started on those. Too fun!

Well, I can't sit around to chat. I need to get a good night's sleep for a full day of house cleaning tomorrow. JOY! (Note the sarcastic tone.lol.)

They say absence makes the heart grow fonder. I can attest to that, and so with my love affair with my camera rekindled, no doubt I will have more pics to share very soon. Stay Tuned!